Remote work environments can help you create happy employees throughout the holiday season, but they can also create problems for your cybersecurity. Employees might enjoy a greater work-life balance and appreciate the opportunities to get their holiday shopping done on time, but the holidays also offer prime time for cyberattacks. The increase in online shopping– e-commerce sales are expected to surpass 5 trillion in 2022— only adds to these opportunities.
Not all elves are cute little rosy-cheeked creatures sitting on fireplace mantels encouraging children to be good. Some of those cyber-elves watching over our shoulders are more sinister, looking for you and your employees to make a mistake that they can exploit and launch a new cyberattack.
Businesses today find themselves facing additional threats. While cyberattacks against customers are upsetting, when those customers also work remotely for a business and access business networks from their devices, those risks get amplified tenfold. The security of your employees, therefore, also has implications for the security of your business.
Fortunately, there are strategies and tips you, as a business owner, can use and pass on to your employees so that they can navigate this upcoming holiday season more safely. We can help you and your employees stay safe and avoid those sinister cyber-elves.
How You Can Help Your Employees Protect Themselves from Cyber Threats During the Holidays
Watch out for Remote Work Ricky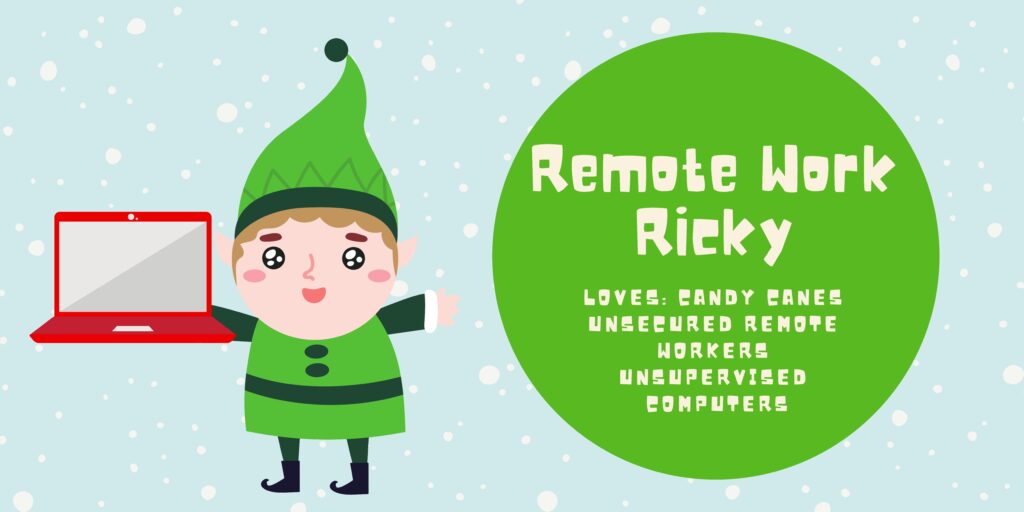 When your employees work from their home office, they will need to access your computer systems. Therefore, you want to make sure you offer firm instructions for accessing company systems from the outside. If your organization has a secure VPN, then you should require its usage. Don't leave it up to your employees to find their own solutions and means of protecting themselves.
You also need to pay attention to the security of home networks for your employees. Personal computers can be easy targets for hackers. They make their way in through these home networks, which often lack robust security found with business networks. Work with your employees to make sure they have set passwords to their home routers and that they have the applicable firewalls set up to lower the chances of a successful attack.
As your employees work from home, you also want to establish routines that each employee has to regularly update their passwords. On a related note, have a list of applications that are approved for usage on work-related devices. The fewer applications that need regular patches and updates the better.
If an employee experiences a cybersecurity breach on their home network, have a process in place for them to report the occurrence immediately. Your IT team and cybersecurity experts need to lock down the system and check for breaches into the company network immediately.
Stay Clear of E-Commerce Ellie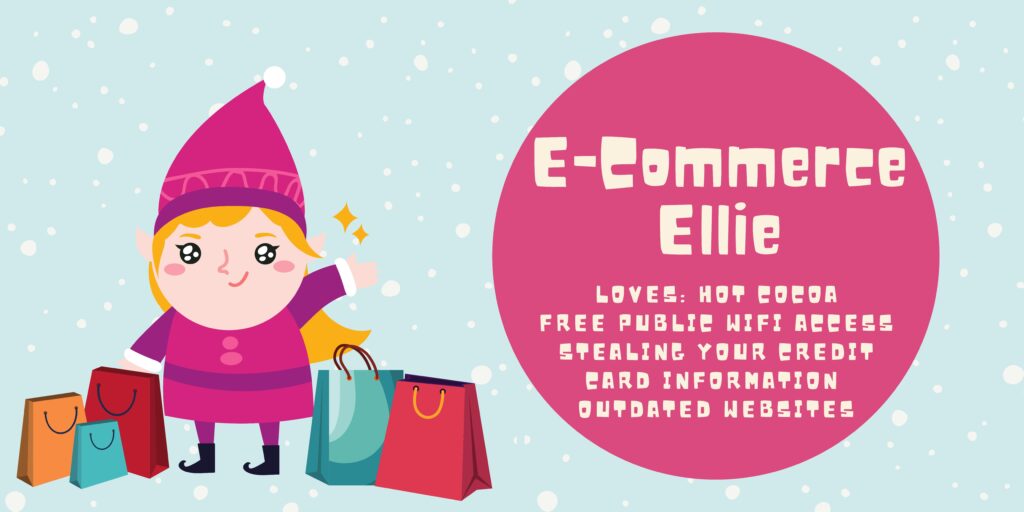 E-commerce makes it easier than ever before to go holiday shopping. After all, you can browse deals and find the perfect gift from the comfort of your couch. However, before starting a shopping expedition, you will want to remind your employees to make sure that any device they use to shop, including a smartphone or desktop, has been updated. You want to ensure that any apps, software, or web browsers you use are as secure as possible.
In addition to checking the security of the devices, your employees also need to verify the source of their Wi-Fi. A private Wi-Fi connection, that is secured with a password, is your best bet. It can be tempting to do holiday shopping while sipping a latte in a corner coffee shop, but these connections are very insecure.
Remind your employees to also regularly monitor their accounts and to set up precautions, such as text and email alerts from their bank or credit card company. This can help them catch signs of a potential breach as quickly as possible.
Your employees also need to make sure that the stores that they buy from are secure. It can be tempting to assume that if a store offers online shopping, they have enacted all the best security precautions. However, everyone also needs to personally verify these details. Explore with your employees how to check that the site has SSL protection by looking at the address bar for HTTPS. If this security sequence is missing, then your employees should not submit any personal information, including payment information.
Avoid Identity Theft Izzy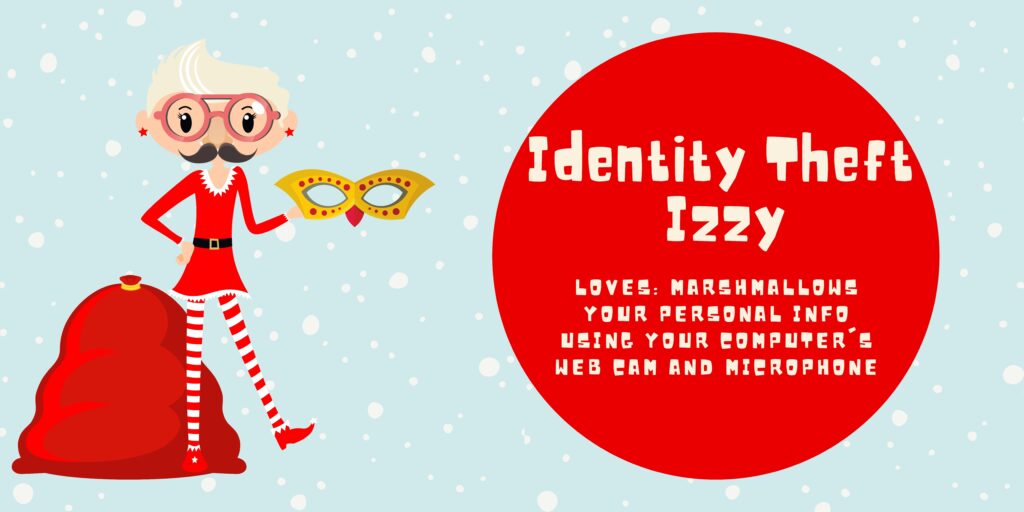 Identity theft is also a pressing concern around the holidays. With the large number of sites and apps that people use for shopping and the accounts they log into, employees will find themselves facing numerous opportunities for someone to steal their sensitive information.
You want to remind them to protect themselves by taking the following steps:
Create unique passwords for all of your accounts
Make your passwords long and not obvious
Use multi-factor authentication whenever you can
Creating passwords using these simple steps can go a long way to helping your employees navigate online safely.
Outsmart Phishing Phil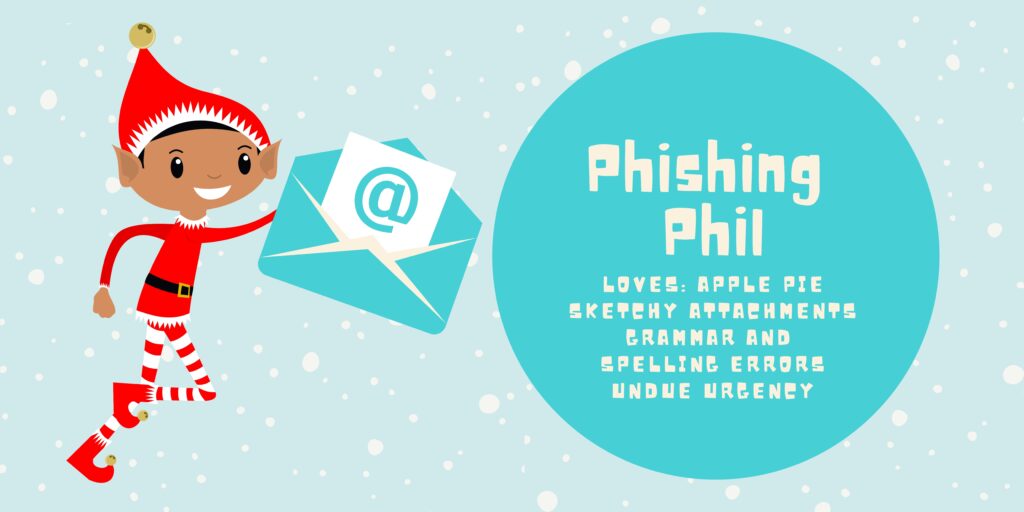 When the holiday season rolls around, unfortunately, hackers attempting phishing attacks also follow closely behind. With too-good-to-be-true offers, attempts to get people to send over sensitive login information, and other means to trick recipients, phishing attacks have become an unfortunately common part of the holidays.
Offer your employees reminders about how to detect phishing attempts. As they shop online, this should include only buying from retailers they recognize and ignoring emails offering 'deals' that seem too good. Remind them also not to click on any suspicious links that could introduce malware to their system within just seconds.
Give Your Company The Gift of Better Safety
Help your company operate more safely this season by keeping your employees more secure online. When they navigate the internet with safety as a priority, they also help to protect your company networks that they often access from home. In the age of remote work, these digital security steps have only become more important.
If you want to know more if your company is safe, then reach out to us at Deerwood Technologies. We will provide you with a thorough risk assessment, helping you determine where potential weaknesses lie and how secure your network is heading into the holiday season. Reach out to us today to give your business the gift of improved cybersecurity.